NetScaler
The most advanced cloud network platform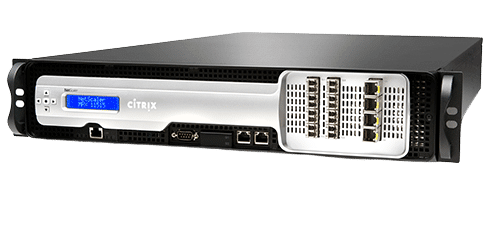 Citrix NetScaler service and application delivery solutions are deployed in thousands of networks around the globe to optimize, secure and control the delivery of all enterprise and cloud services and maximize the end user experience for all users including mobile clients. NetScaler helps organizations:
Build enterprise cloud networks that ensure the best performance and availability for all applications
Scale performance and capacity with revolutionary Citrix TriScale technology
Empower control and confidence with full application security and visibility
Achieve infinite flexibility with built-in cloud connectivity
Grow with the industry's most versatile and extensible platform
Provide LAN-like connectivity to mobile users
App delivery with advanced load balancing
NetScaler L4-7 load balancing brings 100% availability to all applications and services, while improving the efficiency of expensive server and network resources. Acceleration capabilities, such as AppCache, AppCompress and TCP optimizations, improve the user experience by making applications faster and more responsive. NetScaler load balancing capabilities include:
Advanced load balancing – Comprehensive L4-7 traffic management for web servers and application servers in a single datacenter.
Content and app caching – NetScaler AppCache provides high performance caching of both static content and dynamically generated web content.
Database load balancing – Intelligent, SQL-aware load balancing of database servers to scale the data tier and deliver better database performance.
Citrix TriScale technology brings cloud scale to enterprise networks
Citrix TriScale drives unprecedented network scalability, enabling IT teams to build enterprise cloud networks that can Scale Up performance 5x, Scale Out capacity by 32x, and Scale In consolidation by running up to 40 appliances in a single platform.
Scale Up for cloud elasticity – Buy only what you need.
Scale In for greater simplicity – Consolidate to end appliance sprawl.
Scale Out for expanded capacity – Start small — grow forever.
Next-generation security
NetScaler secures applications and networks from a wide variety of threats and attacks, prevents the leakage of confidential data, and protects sensitive communications with SSL and SSL VPN capabilities.
Secure Remote Access – Fully integrated SSL VPN protects mobile users.
FIPS Compliance – FIPS compliant appliances with 4.5+ Gbps of SSL throughput.
NetScaler Service Delivery Platforms
NetScaler platforms ensure the best delivery, performance and security for any web, mobile and cloud application. Intuitive and unified policy management simplifies the network and eases management headaches.
Citrix NetScaler is available in three different appliance options to match the broadest range of business, performance and deployment requirements. In addition to high-performance NetScaler MPX hardware offerings, NetScaler is available as a software-based virtual appliance, NetScaler VPX, as well as a multi-tenant consolidation solution that runs multiple NetScaler instances on a single platform—NetScaler SDX. All NetScaler appliances provide the exact same feature set so Citrix customers can deploy the ideal form factor for the right part of their network, with the exact capabilities required. Citrix TriScale technology provides nearly unlimited cloud scalability and an easy, straightforward path to meet future performance requirements.